Cats charity restores Fulling Mill Cottage bequest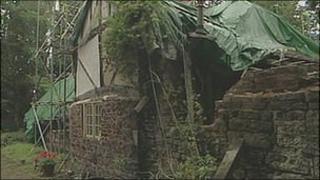 A Sussex charity is restoring a run-down cottage dating back to the 15th Century after it was bequeathed the property by a reclusive cat lover.
Fred Saigeman, who died last year at the age of 78, lived at Fulling Mill Cottage in Fittleworth, near Pulborough, with more than 80 cats.
It took Cat Welfare Sussex 16 months to round up the semi-wild animals from the surrounding land and outbuildings.
The grade II listed cottage has not been altered since Victorian times.
Mr Saigeman had no modern facilities, living with a cold water tap and a tin bath.
Simple life
The cooker was an old cauldron set over the fire and boots from World War I were among the items found in the thatched property.
"Water would have been heated up, possibly on the cauldron," said Julie Grant, trustee of Cat Welfare Sussex.
"He would have lived that very simple country life.
Former teacher Mr Saigeman was the last of three generations of his family to live at Fulling Mill, which was first rented by his grandparents in the early 1870s.
The cottage, which was once used as a guest house, is being restored but the charity wants to keep its character and charm.
Sussex Wildlife Trust is to restore the adjoining orchard, market garden and woodland which also belonged to Mr Saigeman.
He left enough funds for the initial stages of the work and the charity hopes grants and fundraising will help in the future.
"We are in the very early stages at the moment," said Ms Grant.
"We are thinking that we may rent it out, possibly as a holiday cottage to people who wish to experience old buildings and medieval living.
"Obviously we have got to have modern amentiies but there will be plenty of little relics of the past that will be left in the cottage.
"Also, we would like to join in with village events so that the public can experience the cottage."