Marlie Farm fireworks blast widows win right to damages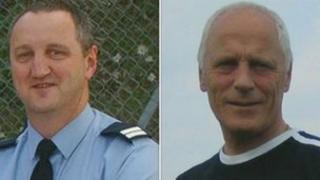 The families of two Sussex firefighters killed in an explosion at a fireworks factory near Lewes have won the right to damages from the site's owner.
Geoff Wicker, 49, and Brian Wembridge, 63, from East Sussex Fire and Rescue Service, died in the blast at Marlie Farm, East Sussex, in December 2006.
A High Court judge said their widows and 12 firefighters and police officers who were hurt were entitled to payouts.
Factory owner Martin Winter, 52, was jailed for seven years in 2010.
His son Nathan, 25, got a five-year term, later cut to four years on appeal.
The Winters' company, Alpha Fireworks, was fined £30,000 for breaching health and safety legislation.
Martin Winter's lawyers argued the victims had put themselves in danger but Mr Justice MacDuff said on Tuesday they could not have known the peril they were in.
Mr Justice MacDuff said Mr Winter had no hope of defending the damages claims against 13 claimants but left it open for him to argue that Mr Wembridge was partly at fault.
He said it "just arguable" that when Mr Wembridge, who was taking footage of the blaze, returned to the fire after being asked to withdraw he contributed in a small way to his own death.