Marlie Farm depot blast report gives 66 findings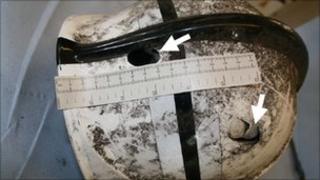 A report into a fireworks factory blast that killed two firefighters has made 66 recommendations.
Geoff Wicker, 49, and Brian Wembridge, 63, both died in the fire at Marlie Farm, in Shortgate, Sussex, in 2006.
Details in the report said firefighters near the blast lost their helmets, metal pierced protective gear and some crews seemed unaware of an evacuation.
East Sussex Fire and Rescue Service (ESFRS) said its report was to prevent a similar event ever re-occurring.
Risks faced
Recommendations in the report covered sharing of information about hazards at scenes such as fireworks and about risks faced by firefighters, and also guidelines on the use of firefighters' helmets, gloves, fire hoods, and eye and hearing protection.
Further recommendations looked at emergency evacuation procedures at incident scenes.
Deputy chief fire officer Gary Walsh, who led the accident investigation team, said the majority of recommendations had already been addressed by the fire service.
Outstanding recommendations that still needed to be dealt with involved other bodies, he said.
He said: "Ultimately, by sharing the report's findings, it is our objective to try to prevent a similar event ever re-occurring."
And he said: "As always, the thoughts of everyone at ESFRS are with the families of Geoff and Brian.
"ESFRS will continue to do all it can to offer ongoing support to the families, as it would for any of our firefighters affected by traumatic events such as those at Marlie Farm."
On Tuesday, the widows of Mr Wicker and Mr Wembridge won the right to seek damages from the factory operators, Martin and Nathan Winter.
In 2009, the Winters were convicted and jailed for the manslaughter of Mr Wicker and Mr Wembridge.
Martin Winter, 52, owner of Festival Fireworks UK Ltd, since renamed Alpha Fireworks Ltd, was jailed for seven years and his son Nathan, 25, was jailed for five years. Last year, their appeals against their convictions failed.
The court heard Martin Winter was "grossly negligent" as he knew an unlicensed metal container packed with fireworks could explode if a blaze broke out.
Following the trial, Judge Mr Justice Cooke told the pair: "You wanted them to fight the fire when you knew that the risk of mass explosion meant that everyone should have evacuated the site and moved to a considerable distance away."
Mr Wicker, who died aged 49, was a retained firefighter and had served the fire brigade for 31 years.
Firefighter Brian Wembridge, who died aged 63, had retired in 1994 after 34 years service, but returned the next day as a photographer and cameraman.
The pair were among the first at the scene on 3 December 2006.