Crawley fundraiser boy set to cycle to Scotland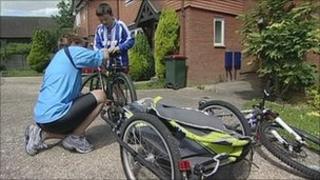 An 11-year-old boy from Crawley who has raised thousands of pounds for charity is setting off on a charity bike ride from Brighton to Scotland.
Charlie Doherty has raised more than £15,000, contributing to the total by adding all his birthday and Christmas money every year since he was four.
He is setting off on the sponsored bike ride on Sunday with his mother, Julie, to raise money for Mary's Meals.
"I don't know how far we are going to get," said Mrs Doherty.
"But I have got to give it a try," she added.
"For months I was saying I wasn't even going to attempt this journey but he says to me, 'You are not even trying', so now I am trying."
Mother and son will be staying with supporters along the way and expect the trip to take four weeks.
"What I think is so amazing about it is that he has actually arranged the whole thing himself," said his primary school teacher, Lisa Sargent.
"That is incredible for a boy of his age.
"He came up with the idea and he has made it happen, and that is Charlie through and through."
Mary's Meals provides school food for children in Africa.
"I do it because there are starving children all over the world and I think why do we have all of this when some people have nothing - they can't even afford food, drink or anything," he said.
"I just can't get it - how we live like this and they live like that. I think it's unfair."