Liberal Democrats hold Eastbourne with cut majority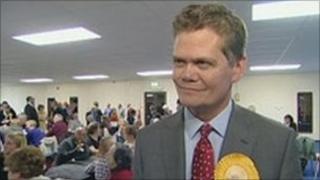 The Liberal Democrats have retained control of Eastbourne but with a reduced majority.
The party held on to power but with its number of councillors reduced from 20 to 15. The Conservatives gained five seats and now have 12 councillors.
Patrick Warner, a Conservative councillor, said it was "a great move forward" for his party in Eastbourne.
In Lewes, the Conservative Party took control of the council from their Lib Dems, who had been in power since 1991.
The Tories took three seats from the Lib Dems and one seat from an Independent councillor.
The Green Party gained 10 in Brighton and Hove, but with 23 seats did not gain the 28 needed for a majority. The Conservatives lost eight seats on the city council and the Lib Dems one.
The Greens said they would now talk to other parties about implementing their manifesto pledges at what was a very challenging time for local government budgets.
Conservative holds
But in Wealden, the Greens lost both their seats, and the Conservatives held control and gained 14 seats to increase their majority. The Lib Dems lost 10.
In Mid Sussex, the ruling Tories made large gains, extending their majority.
The party made 14 gains - 13 of them from the Lib Dems - to end the election with 45 of the council's 54 members. The Lib Dems were left with eight and Labour have one.
The Conservatives held control in Crawley with 24 seats, but lost one seat to Labour, which now has 13.
They also held Rother but were down to 27 seats from 28 before Thursday's election. The Lib Dems lost three, leaving them with five. Labour, which previously had no seats on the council, won two.
And the Tories increased their hold in Horsham, gaining five seats from the Lib Dems and increasing their majority to 34.
In Worthing the Tories also retained control, with no change in the make-up of the council.
The Conservatives retained control in Chichester and gained an extra four seats bringing their total to 38.
The Conservatives gained seven seats in Arun bringing their total to 48 and retaining control of the authority. They took five of those seats from the Lib Dems.