Thakeham mushroom farm housing scheme approved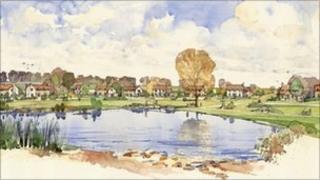 Plans to build 146 homes at a mushroom farm in West Sussex have been approved by councillors in Horsham.
Because of the level of public interest, the proposals were discussed at an extended council meeting.
Plans for the Abingworth Farm and Chesswood sites in Thakeham include housing, a new village hall, community workshops and sports pitches.
Sussex Mushrooms, which has operated the site since 2006, said the homes would secure more than 480 farm jobs.
Environmental conditions
Under the plans, housing will be built on derelict land following the demolition of disused mushroom-growing sheds.
Horsham council had received 187 objections and 218 letters in favour.
But it said the majority of the letters of support were from people living outside the district.
A spokesman for Horsham Council said the plans had been approved by the development control committee, subject to a series of legal and environmental considerations.
They included tackling any contamination at the site, taking measures to offset the impact on the Storrington Air Quality Management Area and providing further details on nature conservation.
Councillors have said development on the Abingworth Farm site should be limited with no future expansion, and the majority of the Chesswood site should only be available for horticultural uses.