Driver sought over fuel thefts in West Sussex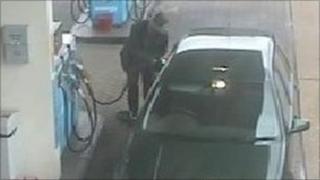 Police have released a CCTV image of a man they want to trace in connection with fuel thefts from petrol stations.
Sussex Police said a man had driven off without paying for petrol at 12 filling stations in Crawley and East Grinstead in West Sussex over the past year.
The force said the suspect was also linked to a number of car registration plate thefts in the county.
He is described as being aged between 30 and 50, usually wears a wide-brimmed hat and drives a green VW Golf.
A spokesman for Sussex Police said: "Most of the bilkings, which is driving off without paying for your fuel, have occurred over the last year in Crawley and East Grinstead, but there has been recent activity in Crowborough, Uckfield and Lewes.
"The bilker attaches stolen number plates to his car before driving into a petrol station, fills up with fuel and then drives off, much to the annoyance of the garage staff."