Redhill Aerodrome crash pilot 'relatively inexperienced'
9 July 2014

From the section

Surrey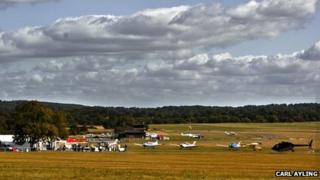 A man was killed when the engine of his light aircraft stalled before it entered a dive shortly after take-off in Surrey, a report has concluded.
The Rans S6 aircraft crashed at Redhill Aerodrome on 28 August last year.
Firefighters and paramedics tried to rescue the pilot, 57, but he died at the scene. There were no passengers.
The Air Accidents Investigation Branch (AAIB) said his relative inexperience and the limited time available to react appropriately were likely factors.
The pilot had obtained his licence in July after completing 53 flying hours.
'Engine faltered'
Emergency services were called just after 11:20 BST to reports an aircraft had crashed at the end of the runway.
At the time, aerodrome manager Philip Wright said: "There was no mayday call nor did the pilot report anything unusual to ATC (air traffic control)."
The AAIB report said the pilot had been practising visual circuits and was "climbing away after a touch-and-go landing when the aircraft's engine was heard to falter".
"The aircraft was seen to slow in a climbing attitude before stalling and entering a near-vertical dive from which it did not recover."
The pilot was fatally injured in the impact, investigators said.
They added that no definitive cause of the engine power loss could be determined.
The aircraft had been based at the aerodrome for several years and was operated by a syndicate of private pilots, of which the victim was secretary.