Guildford's 331-year-old town clock back on the right time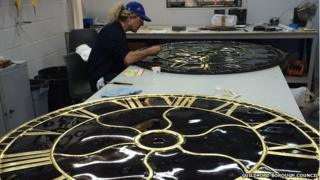 The hands of Guildford's 300-year-old town clock are moving again after several months of restoration work was completed.
The clock was broken in 2010 after someone tried to push its hands forward by an hour as a "prank".
A temporary repair to fix the mechanism broke during poor weather last year and the clock stopped working completely.
Restorers said the hands of the "iconic clock" would now keep moving for many generations to come.
The work involved replacing parts of its rotten wood casing and restoring the various individual cogs, gears and wheels.
Two layers of English gold leaf were also applied to the face.
Martin Butchers, of restorers Smith of Derby, said: "It's a big job and to see the clock restored to its former resplendence is a sight to behold."
The timepiece has been situated on the Guildhall since 1683.