Kelvin MacKenzie in council Elmbridge election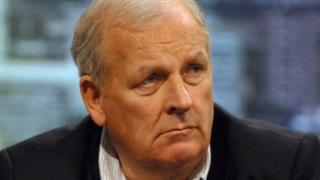 The former editor of The Sun, Kelvin MacKenzie, is to stand in the May local council elections in Surrey.
He is hoping to become an independent Elmbridge Borough councillor in the St George's Hill ward in Weybridge.
Mr MacKenzie is campaigning to have the council offices in Esher moved to a cheaper site and for a reduction in parking charges for residents.
The ward is currently represented by one Conservative and two St George's Hill Independent councillors.
'Cheaper parking'
Mr MacKenzie stood in the Elmbridge Borough Council elections in May 2008. He came second to the Conservatives.
He said he wanted commuters who drive into the borough and use Elmbridge car parks to be charged more than those who lived locally.
"I'm going to suggest that you have a little sticker which shows you are from the area and you get a 20% discount from the machines," he said.
He also said he would like to close down the civic centre in "rather wealthy" Esher.
"I would like to move it to a much more challenged area of Elmbridge. Just having those old-fashioned giant monoliths in a rather wealthy town like Esher is not a good idea and the land could be better used," he said.
St George's Hill ward is represented by Peter Harman and Brian Fairclough, of the St George's Hill Independents Party, and Keith Egan, Conservative.