Second cyclist rides on Surrey motorway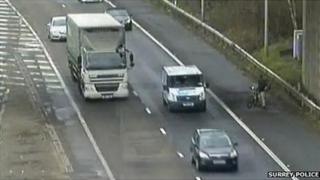 A second cyclist has been penalised for riding on a motorway in Surrey, a week after another man was fined for cycling on the M25.
The man was stopped on the M3 on Wednesday. He told officers he was following directions on a phone app.
The first cyclist was seen cycling on the hard shoulder on the M25 during morning rush hour on 25 February. He said he was also guided by an app.
Both cyclists were given on the spot fines of £50.
Surrey Roads Police tweeted the man had been cycling along the M3 from Sunbury towards the M25.
The force received a call at about 13:40 GMT reporting a cyclist on the hard shoulder of the M3 southbound between junctions 1 and 2 at Chertsey.
"The cyclist, a man in his late 20s, was issued with a £50 fine for contravening a road sign and given words of advice before being taken safely off the motorway in a van by a police officer," the police spokesman said.
"The cyclist was following an iPhone app and had already stopped when police officers arrived."
'Rare occurrence'
Regarding last week's incident, Surrey Roads Police tweeted that the man, who had cycled "several miles" on the motorway, had been looking for a shorter route home from work.
They added the man's phone app sent him on the motorway so he thought it was OK.
A force spokesman said the first incident had caused tailbacks because police had to close a couple of lanes in order to bring the cyclist to a halt, which had a knock-on effect.
He said that people cycling on motorways was a "rare occurrence".
"We don't have very many," he said.
"We've had two in the last couple of weeks and they're the only ones that we've had for some time."