Residents in Surrey advised to keep sandbags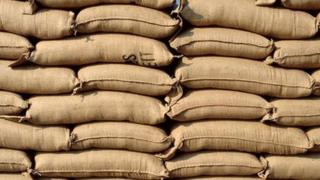 Residents at risk of flooding in Surrey are being advised to keep their sandbags in case of future problems.
More than 1,000 homes in the county were flooded recently.
Surrey County Council has said it is offering people the chance to exchange wet sandbags for dry ones at two recycling centres.
The authority also said volunteers would help people who were unable to dispose of or collect the bags.
It said its highways team was inspecting affected roads, making them safe and repairing any damage.
A total of 1,124 people had to be rescued from flooded homes near the River Thames.
A temporary flood barrier was also installed in Chertsey and seven recovery centres were set up across the county.
The two recycling centres offering the sandbags are in Woking and Shepperton.