Chertsey homes evacuated as River Thames breaks banks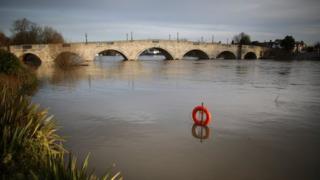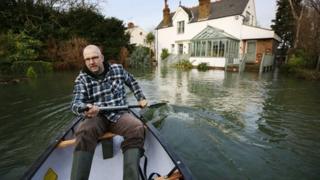 Dozens of homes in part of Surrey were evacuated after the River Thames burst its banks.
About 25 people who were forced to leave their properties in Chertsey slept at the Greeno Community Centre, Shepperton, overnight.
Flood water has also stranded cars and caused major traffic problems.
The Environment Agency has issued eight flood warnings for River Bourne, Wey and Thames, warning that water levels will continue to rise.
Properties at the Abbey Fields caravan park in Chertsey have been completely surrounded by water from the River Thames.
'Evacuated for safety'
Some Chertsey residents have been using boats and canoes to navigate the flooded parts of the town.
Jackie Taylor, of Spelthorne Council, said: "Most of the flooding is to the ground around the properties, although some people can't be certain as they don't know yet.
"A number of people have actually been evacuated for their own safety... because the water surrounds them and then they are basically trapped."
She added: "We're delivering sandbags, we've opened a rest centre so should people need to go there for extra assistance [they can].
"We're working with the police, Surrey Fire and Rescue, Surrey County Council and the Environment Agency to monitor the situation and to do what we can on the ground to help the people worst affected."
In a statement, the Environment Agency said: "The River Thames continues to rise at Chertsey and will impact the river levels on the Chertsey Bourne.
"Flooding of some properties closest to the rivers is expected. Levels are currently expected to be comparable to January 2003.
"The River Thames is expected to continue to rise for the next few days and remains sensitive to further rainfall."
Temporary flood defences have been installed in High Street, Guildford, to protect the town centre.
Flooding has also affected Horley, East and West Molesey, Staines, Sunbury, Thames Ditton, and Weybridge.
Elmbridge Borough Council said it had been issuing sandbags to properties at potential risk of flooding from the Thames but only had a "limited supply".
Power outages affected more than 17,000 people across Surrey at the height of storms over the Christmas period.