Flood warnings in place for Surrey ahead of more rain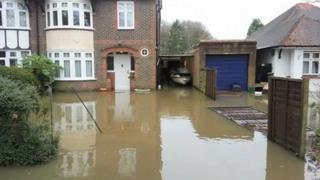 Two flood warnings remain in force for parts of Surrey ahead of further heavy rainfall predicted for the weekend.
The Environment Agency has issued flood warnings for the River Wey at Old Woking, and at Elstead and Eashing.
An earlier warning for the River Wey at Guildford is no longer in force after river levels fell throughout the day.
The agency said property flooding was no longer expected, but the river remained sensitive to further rainfall and a warning could be reissued.
Earlier, one person was injured when a tree fell on a car on London Road, in Windlesham.
A man was also rescued from a car in Ockham.
Malcolm Styles, from Surrey Fire and Rescue Service, said: "It was a gentleman who ignored the road signs and decided he would go through the water.
"Unfortunately it was about 1ft deep and he got stuck in the centre.
"He didn't want to get out of his car so we ended up wading in and pushing him out.
"I urge the public to really adhere to the road signs and if there's any fear of going through the water, to avoid it at all costs."
Rail lines closed
Horley resident Geoff Spreadbury is facing six months living in a camper van on his driveway after his home was flooded on Christmas Eve.
"It seems to be an ongoing problem and there's more bad weather forecast," he said.
Meanwhile, rail firm Southern said trains were still not running between Horsham in West Sussex and Dorking in Surrey, after a major landslip in the Ockley area on Christmas Eve.
It said the rail line was expected to be closed until early February as "around 40m of embankment has collapsed and repairs will require an access road to be built to allow machinery in to carry out pile driving to underpin the embankment".
South West Trains said the line between Petersfield in Hampshire and Haslemere in Surrey would remain closed until Sunday while work continued to make the embankments safe.