Spelthorne protest against Surrey fire service cuts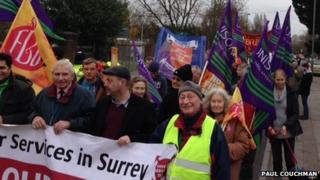 Campaigners fighting fire service cuts in Spelthorne have staged a protest.
Surrey Fire and Rescue Authority has put forward plans for Spelthorne borough to have one fire engine at one fire station instead of two engines at two stations, under cost-cutting plans.
Consultation has finished and Surrey County Council (SCC)'s cabinet is due to make a decision in February.
Campaigners said they aimed to show SCC the strength of feeling over the plans. SCC said it was considering feedback.
The protest was organised by Save Our Services in Surrey, which is made up of trade unions, community groups and residents.
UKIP county councillor Dan Jenkins said about 300 to 400 people there - including Unison, the Fire Brigades Union and residents associations - opposed the Conservative-run council's plans.
Protesters said the plans would halve Spelthorne's fire safety at a stroke.
Unison representative Paul Couchman, said the move meant Spelthorne would become Surrey's least fire-resourced borough.
'Tough decisions'
Mr Couchman said the borough had the highest concentration of tower blocks, the busiest roads including the M3 and M25, Heathrow Airport nearby, and it bordered a London oil storage depot.
He said: "There are 35 fire engines in Surrey to cover 11 boroughs. Spelthorne will be left with just one. We have to speak out."
SCC issued a statement on behalf of the fire and rescue service, which said: "We have some tough decisions to make about the fire service for the county and we won't make any changes lightly.
"We've had a fantastic amount of feedback from local people, which we're now going through very carefully so everyone's views are considered before a proposal is presented to the cabinet to decide upon early next year."
The council said the outcome of the consultation would be made public in January and a decision would be made on 4 February.