Terry Smith Staines custody death police investigated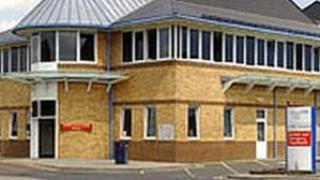 A criminal investigation into eight Surrey Police officers and two other staff will take place after the death of a man after he was held in custody.
Terry Smith, 33, was detained under the Mental Health Act on 12 November. He died in hospital 24 hours later.
The Independent Police Complaints Commission (IPCC) said offences including gross negligence manslaughter may have been committed.
Police said the 10 had been temporarily removed from operational duties.
IPCC Commissioner Jennifer Izekor said: "Based on our initial inquiries, I have decided this will be a criminal investigation into eight Surrey police officers and two Surrey police staff who were involved in Terry Smith's detention and restraint.
'Misconduct probe'
"At this stage we consider there is an indication that potential criminal offences may have been committed including gross negligence manslaughter, misconduct in public office, and/or offences under the Health and Safety at Work Act 1974.
"We will also be considering whether any potential disciplinary offences have been committed."
Mr Smith, a father who lived locally, was detained by police in Stanwell at about 22:00 GMT after a call for assistance from an ambulance crew, she said.
He was taken under restraint to Staines Police Station where he was arrested and continued to be restrained.
The IPCC said he became ill and died in St Peter's Hospital, Chertsey, about 24 hours after being detained.
Witnesses who saw Mr Smith that evening in the area of Vanguard House and Clifton Court in Douglas Road are still being sought.
'Acting strangely'
Investigators said Mr Smith, who was white and about 5ft 8in (1.7m), was reported to be acting strangely and only partially clothed.
Ms Izekor said the investigation would be looking at Mr Smith's detention and his time in custody before he was taken to hospital at 01:00 GMT.
She said investigators would also look at the length of time he was restrained and methods used.
Surrey Police said it continued to co-operate fully with the IPCC.
The force said Mr Smith had been arrested on suspicion of a drugs-related offence, but his health had deteriorated and an ambulance was called.
A spokeswoman for the force said: "The officers and staff have been temporarily removed from operational duties whilst restrictions are formally considered."