Blackwater River 'to become nature haven'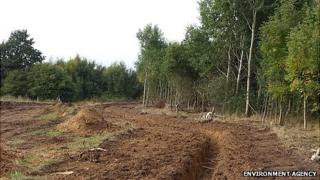 A stretch of river running through a quarry in Farnham is to be re-routed and transformed into a "nature haven", the Environment Agency has said.
Work has begun on moving part of the Blackwater River, on the Surrey, Hampshire and Berkshire borders.
Biodiversity technical officer Ryan Oakley said the section of the river was currently "very artificial".
He said the project would create a more natural river channel and help reduce the potential for flooding in the area.
The 0.3 mile (450m) stretch of river will be moved south of its current position and away from residential properties, he added.
Crossing points will be put in to maintain access for the community, he said.