Slyfield Green fire victim Frederyk Kucharski 'fought Nazis'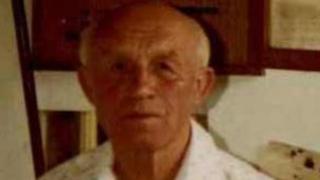 A 92-year-old man who died following a suspected arson attack at his home fled his native Poland and fought for the Allies during World War II.
Frederyk "Fred" Kucharski was rescued from the fire in Slyfield Green, Guildford, on 6 July but died in hospital five days later.
In a tribute, his family said: "Only in his death have we truly realised what an extraordinary person Fred was."
A woman and a man arrested on suspicion of murder have been released on bail.
Two men arrested on suspicion of arson with intent to endanger life are also on bail.
'Lovely man'
As part of a renewed appeal for information officers have issued a picture of Mr Kucharski as a younger man.
His family said: "He had an amazing life, fleeing from Poland at the start of the war... fighting the Germans during the war and then finding his brother at the end of the war in Witley Camp.
"Fred was a lovely man. Nobody should suffer the way he did."
Det Insp Dave Cooper, from Surrey Police, said: "From the information we have gathered from residents it's clear that Fred was a well known member of the local community.
"I'm sure people would remember speaking to him or seeing him out and about in Slyfield Green in July."
Mr Kucharski had lived in Slyfield Green for more than 25 years and was regularly seen travelling into town on the bus.
He also visited the Sainsbury's store in Burpham once a week.
A post-mortem examination found he died of injuries from the fire.