Police 'sorry' for saying it is a crime to play in the street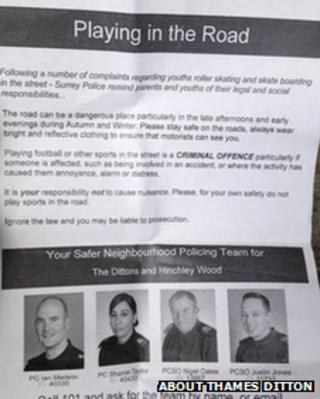 Police have apologised after flyers were sent to families in Surrey telling them it was a criminal offence for children to play sport in the street.
Residents of Southville Road, Thames Ditton received the notices from Surrey Police last month.
One resident, Tom Muir, said it was a "knee-jerk reaction" to complaints that cars had been hit by footballs.
Insp David Hollingsworth later apologised, saying playing was not "in any way criminal behaviour".
The leaflet said Surrey Police reminded parents and youths of their legal and social responsibilities following a number of complaints.
"Playing football or other sports in the street is a criminal offence, particularly if someone is affected, such as being involved in an accident, or where the activity has caused them annoyance, alarm or distress," it said.
'Bit unfortunate'
Insp Hollingsworth sent his apology to all residents who received the leaflet.
"The main purpose of the flyer was to identify the concerns and emphasise the obvious dangers involved in playing in the road," he said.
"It correctly identified that playing games such as football on the highway may be unlawful in some circumstances; however this would not in any way be criminal behaviour.
"Please accept my apologies for the way in which the leaflet put this message across and for any offence it may have caused."
A Surrey Police spokeswoman said phrasing in the original flyer was "a little bit unfortunate".
She said sending out the flyer was not a misconduct offence by any officers and was not done maliciously.