Police investigate Woking poll illegal practices
30 July 2013

From the section

Surrey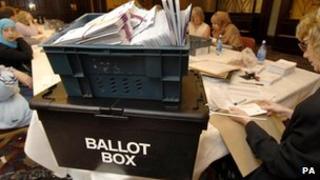 Police are carrying out a criminal investigation into corrupt and illegal practices during elections in Woking.
Liberal Democrat Mohammed Bashir defeated Labour candidate Mohammad Ali by 16 votes in Woking's Maybury and Sheerwater ward in May 2012.
On Monday, High Court judge Richard Mawrey ruled corrupt and illegal practices had been committed by Bashir and through his agents.
A by-election will be held in the ward, with Bashir banned from proceedings.
A spokeswoman for the force said: "Surrey Police is currently investigating an allegation of electoral fraud around the local government election in May 2012 in the Maybury and Sheerwater area.
"The investigation is currently ongoing and the force is unable to comment further on the matter at this time."
The judgement, by Election Commissioner Richard Mawrey QC on Monday, said Labour candidate Mr Ali had alleged Bashir and his electoral team had caused false names to be entered on the electoral register, using the names of people who did not live at the stated address, or never existed at all.
He said there had been an "abnormally high" number of late registrations, multiple registrations in the same property, and abnormally high turnout figures.
"Sadly, therefore, this is yet another case where the United Kingdom's shambolic electoral system has led to an election being challenged on the ground of widespread fraud," his judgement added.