Emily Davison memorial design chosen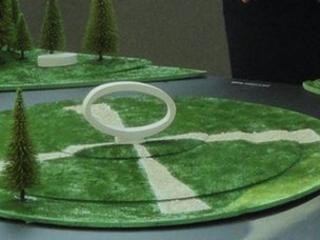 A sculpture designed to frame the setting sun on the day suffragette Emily Davison died has been chosen to commemorate the Derby Day martyr.
Davison died from her injuries four days after running out in front of King George V's horse as it ran in the Epsom Derby on 4 June, 1913.
Epsom and Ewell Borough Council held a design competition for a piece of public to act as a memorial.
The winning idea, by Surrey artist Mary Branson, beat five other entries.
The council wants to position the sculpture near Epsom Downs racecourse, on a roundabout at Tattenham Corner.
The cost will be met through fundraising, sponsorship and grants.
Ms Branson said her starting point for the design was the symbol for woman - a cross with a circle beneath.
"In a broader sense it will be a token for all women," she said.
The circle is represented as a polished white concrete ellipse on the centre line of the roundabout, with the cross in the form of a chalk path.
Once a year, at dusk on 8 June, the setting sun will appear in the centre of the circle.
The design was chosen by a combination of public votes and a panel of judges.
The council said fundraising would now begin to finance the project, with the public and local businesses having the chance to contribute.
The council will also apply for grants.
Emily Wilding Davison was the only suffragette killed campaigning for votes for women and was claimed as a martyr for the cause.