Bank mis-selling victims from Epsom awarded £350,000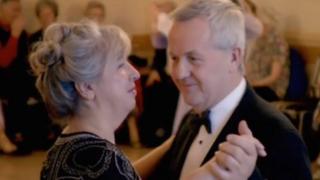 A couple from Surrey is to be repaid nearly £350,000 after their bank mis-sold them an interest-rate swap arrangement.
Terri and Stewart Flett, from Epsom, who own the Hotel Piccadilly in Bournemouth, signed up to the specialist insurance policy to offset any rise in their mortgage rate six years ago.
But their bank did not make it clear that if interest rates fell, they would have to start repaying thousands of pounds each month.
Speaking on the BBC Two documentary Bankers, the couple said the economic crash left them facing ruin.
Former dance teacher Mrs Flett and her husband needed to borrow £1.75m to buy the hotel, which is known for its dancing courses and tea dances.
The bank, which is not being named for legal reasons, helped them get a mortgage and also persuaded them to take a specialist insurance product, known as an interest rate swap, to offset any rise in their mortgage rate.
'Huge amount'
But the Fletts said they did not realise that if interest rates fell, they would have to start paying the bank thousands of pounds every month.
Mrs Flett said: "It was a disaster - the more the rate went down, the more we paid.
"We were paying about £6,500 a month which was a huge amount of money to us, on a new business.
"Nobody told us that it would cost so much.
"If I'd have known that our business, our home, our marriage was at risk, I just wouldn't sign it and nor would any other small business."
Her husband said: "We didn't really understand what were getting in to - we assumed it would be good for us because the bank told us.
"We never dreamt we would be in this position, where it was costing us so much money."
The couple said the bank had reviewed their case, apologised and offered a refund of £347,871.
In February, the Financial Services Authority said that more than 90% of the interest rate swap deals it looked at had been mis-sold.
It ordered banks to review all sales.
Antony Jenkins, group chief executive at Barclays, said: "Banks have to be the cornerstones of the economies where they do business.
"We have to deliver returns for our shareholders but we also have to do the right thing for our customers and clients."
Antonio Horta-Osorio, chief executive of Lloyds Banking Group, said he had managed several different banks in four different countries.
"The trust of UK customers in banks is the lowest I have seen in the countries I have worked," he said. "This must change."
Susan Allen, chief executive of Customer Solutions Group, RBS, said: "Restoring trust is not going to be something that happens overnight.
"We have to earn that trust back, inch by inch. And it will be a long process."