Huge hole found under Reigate restaurant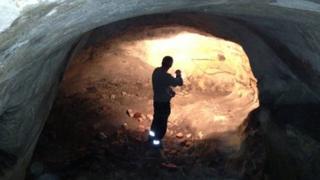 A hole, estimated to measure about 60 cubic metres (2,100 cubic ft), has been discovered by builders working on a 300-year-old listed building in Surrey.
The building, which is set to be a Thai restaurant in Reigate High Street, was being underpinned by builders when the hole was discovered.
Many caves were carved beneath houses in the town during the 19th Century as owners mined for silver sand.
A restaurant spokesman said the hole would become a feature of the business.
He said the hole was too big to be filled in and would be lit and covered with a glass floor.
Some of the caves were used as air raid shelters during World War II.
Many have collapsed or been filled in but some are still accessible from Tunnel Road.