Otters breed in Surrey 'for first time in 40 years'
15 May 2013

From the section

Surrey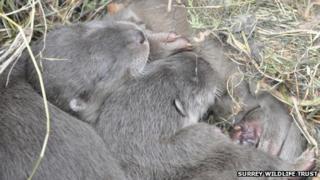 Otters may have been born in the wild in Surrey for the first time in more than 40 years.
Surrey Wildlife Trust officer Jim Jones saw a female otter with two fully-grown pups on the banks of the River Wey.
"I was astonished to see three of these elusive creatures right in front of me," he said, adding that it suggested a family group had bred in the area.
The trust said it had been working hard for many years to encourage otters back into the county since the 1960s.
The sighting follows the filming of two young otters in the spring by a local fisherman.
The UK otter population has been slowly recovering after almost dying out in the 1970s, thanks mainly to environmental improvements and legal protection.
However, the animals are still rare in south-east England.
"It is fantastic to have otters back in Surrey," Mr Jones said.