Cycling in Surrey above national average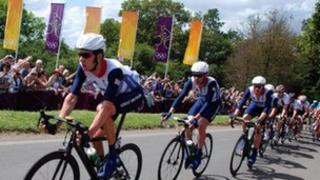 Companies in Surrey are being given help to encourage cycling after government figures showed bike-riding in the county was above average.
The Department for Transport said 20% of people in Surrey now ride a bike at least once a month, compared with the national average of 15%.
Elmbridge came top, with 24% cycling each month, followed by Guildford at 23%, and Woking at 23%.
In 2010/11, 18% of people in the county cycled at least once a month.
Surrey County Council is inviting companies in Woking, Guildford, Redhill and Reigate to bid for funding to install cycle parking and said it would match money raised for showers and lockers.
'Boost the economy'
John Furey, cabinet member for transport and environment, said: "We're dedicated to encouraging more people to cycle by making it safer and easier to use a bike.
"As well as the health benefits, cycling can also help boost the economy by taking cars off the road and reducing the congestion and delays that cost businesses money.
"Research has shown that more people would likely ride to work if they knew there would be somewhere safe to leave their bike, so offering shower and changing facilities acts as an incentive for people to take to two wheels."
Last year, the London 2012 cycling road races and time trials took place in parts of Surrey.
The penultimate stage of the Tour of Britain cycle race will be held in the county in September, starting in Epsom and finishing in Guildford.