Yehudi Menuhin School child abuse claims investigated
8 May 2013

From the section

Surrey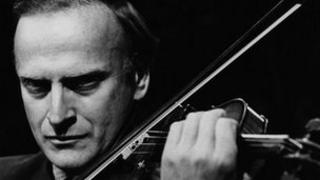 Allegations of historical child abuse at the music school founded by violinist Yehudi Menuhin are being investigated by police.
The Yehudi Menuhin School, in Cobham, Surrey, said the allegations revolved around a member of staff in the 1960s.
It is understood to be pianist Marcel Gazelle, who died in 1969.
Surrey Police said officers were liaising with the school about the allegations and encouraged anyone with concerns to contact the force.
The allegations, made on Channel 4 News, include claims the founding music director of the school sexually abused female pupils as young as 10, in the 1960s.
'Powerful person'
Irita Kutchmy, who studied with Mr Gazelle from the age of nine to 12, told the broadcaster his behaviour had had a "very detrimental" effect on her childhood.
She said: "I felt he was a very powerful person... I just remember feeling like I was sort of like his property, his pupil and therefore what he said went.
"It didn't appear to me to be weird that he came up to wake us up in the morning.
"It was just the way it was at the school... He would tickle me under the sheets... His hands were on my bare skin where they shouldn't be."
In a statement, the school said it had been contacted by two former pupils and was "shocked and saddened" to learn about the allegations.
'Safety and welfare'
"We have checked the records, which survive from 50 years ago, and can find nothing about any concerns expressed at the time," it said.
"The Yehudi Menuhin School attaches the utmost importance to the safety and welfare of the students in its care, as recent inspection reports show, and continues to concentrate on providing its students with first-class care and teaching."
The Menuhin School was founded in 1963 and its former pupils include violinist Nigel Kennedy.
A spokeswoman for Surrey Police said: "We can confirm we have been contacted by the Yehudi Menuhin School following allegations of historic sexual abuse against a member of staff who is now deceased.
"The force is liaising with the school and would encourage anyone with concerns to contact us."