Deepcut barracks: Public inquiry hopes follow new book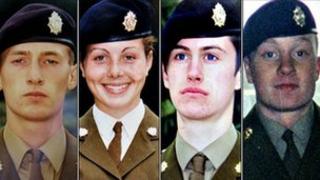 The mother of a soldier who died at Deepcut army barracks 11 years ago is hoping her new book will help bring about a public inquiry.
Four soldiers died in unclear circumstances at the Surrey base between 1995 and 2002.
Yvonne Collinson Heath's son Pte James Collinson, 17, was found with a bullet wound to the head in 2002.
Police said investigations would stay closed unless new evidence came to light.
Privates Sean Benton, Cheryl James and Geoff Gray also died from bullet wounds.
A coroner recorded a verdict of suicide for Pte Benton - but the inquests into the other three soldiers' deaths returned open verdicts.
'Thoroughly explored'
At the time of the deaths, there were allegations of bullying at the barracks.
The soldiers' families hope to take the case to European Court of Human Rights.
Mrs Heath said she hoped her book - A Mother's War: One Woman's Fight for the Truth Behind Her Son's Death at Deepcut - could finally bring about a public inquiry.
She said: "There have been so many different stories, I would really like to get to the bottom of exactly what did happen.
"And I think when you take James' death and the other three deaths into account and you look at all four of them together, there's a lot of coincidences and there seems to be some kind of pattern going on.
"There's never been in a court of law the opportunity to look at all four deaths together and that is why we need a public inquiry."
In March 2011, Devon and Cornwall Police's report into the Surrey Police investigation said detectives did not properly consider a list of hypothetical suspects.
Surrey Police said it had considered all possibilities for the deaths.
A spokesman said the force was co-operating with a request from the solicitors of one of the families to disclose all information relating to the death of a soldier at the barracks in 1995.
In a statement, Surrey Police said: "The force has previously apologised for not properly challenging early assumptions that they had taken their own lives.
"However reports suggesting lines of inquiry were missed are inaccurate.
"The review carried out by Devon and Cornwall Police highlighted a number of procedural issues, but did not find a line of enquiry or piece of evidence we missed.
"Unless any new evidence comes to light, the investigations remain closed.
"If any further evidence is forthcoming, it will, of course, be thoroughly explored."