Fish dumped in Lingfield Nature Reserves' pond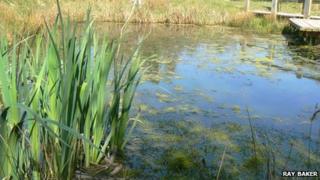 Goldfish and roach have been dumped in a Surrey nature reserve's pond, posing a risk to the site's protected species.
They have been spotted in the water at Lingfield Nature Reserves, and it is thought they have been eating the larvae of the newts and dragonflies.
Spokesman Ray Baker said the adult fish had been dumped at "the worst time of the year" as the newts began to breed.
He added the roach would be the most harmful as they would breed more readily and be harder to catch.
Julie Hearn, from the nature reserve, said: "Anyone who thought they were doing the fish a favour by putting them in the ponds are misguided."
Mr Baker said a notice asking people not to dump any more fish had been destroyed, which was "symptomatic of the vandalism that is a regular problem for our reserve".
Surrey Police said its Tandridge Safer Neighbourhood Team had been made aware and would be contacting officials at the reserve to discuss what could be done to prevent further incidents.