Robber sought after woman pinned down in Epsom robbery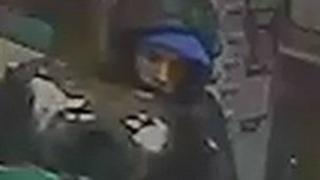 Images have been released of a man wanted in connection with a Surrey betting shop robbery in which a woman was pinned down.
One of the two men who targeted Betfred on Epsom High Street on 18 March held the woman's face to the floor.
They entered the premises with their faces covered shortly after 21:20 GMT and left with large amounts of cash.
Surrey Police said the men were believed to have left in a white Ford Connect van.
Two men previous arrested over the robbery have since been eliminated from the police inquiry.