Surrey deer attacks by dogs prompt warning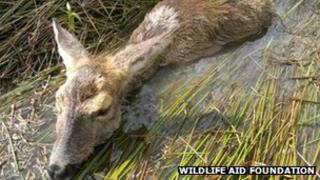 Dog owners have been urged to keep pets under control after the death of two deer chased by dogs in Surrey.
A pregnant roe deer was savaged and chased into a pond at Bookham Common, while a male roe fled onto a motorway.
Both incidents on Monday were attended by Simon Cowell, founder of the Leatherhead-based Wildlife Aid Foundation (WAF).
He said the pregnant deer had been "ripped apart", while the male had a totally shattered front leg.
"Sadly, deer attacked by dogs more often than not result in a very unhappy ending, as was the case with both of these poor animals," Mr Cowell said.
"Please, please keep your dogs trained and under control, or better still on a lead if you cannot entirely trust them."
He said rather than the dogs being to blame, it was often "the lack of training and control by the owners".
"People need to know the havoc their dogs can cause," Mr Cowell said.
Newborn deer
He added that the following day there had been another call about an injured deer, "but this time there was a happy ending".
"It was 3am... in this case the deer had collided with a car but seemed only to have received a glancing blow.
"When I got to the scene of the accident he was luckily able to get up and run off. All four legs seemed in good working order."
Mr Cowell warned that a lot of newborn deer would be in the area shortly.
"If you see a fawn that appears to be injured or abandoned please don't pick it up unless it's in mortal danger," he said.
"If you think there may be a problem please contact WAF and we will deal with it."