UKIP trio becomes Waverley council opposition party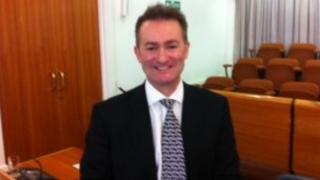 A three-strong UKIP group is to be set up on a Surrey council after a second councillor defected from the Tories.
Brett Vorley, who represents Cranleigh East ward on Waverley Borough Council, has joined Diane James and Elliott Nichols in UKIP.
He left the Conservative Party last month and has sat as an Independent councillor in the interim.
Councillor Robert Knowles, leader of Waverley's ruling Conservatives, said he was happy to have an opposition.
The council now has a 53-strong Conservative group and three UKIP councillors.
Mr Vorley said he believed UKIP was "the best hope to put the Great back in Britain".
"Our heavily indebted nation needs a new political force which has clear vision and leadership, workable and relevant policies and is not afraid to tell it as it is," he said.
"I believe that political force is UKIP."
'Real say'
The leader of the Liberal Democrats on Surrey County Council said the defection demonstrated that there was a need for a Liberal Democrat opposition on Waverley Borough Council.
Councillor Hazel Watson said: "Support for the Conservatives in Waverley appears to be crumbling but UKIP is not the answer.
"It is unclear what a councillor with an Independent label stands for when one moment they are Independent and the next moment they are under a UKIP label."
UKIP leader and South East MEP Nigel Farage will welcome Mr Vorley to the party at a public meeting at Oxted School on Friday evening.
Earlier, Mr Farage visited Tunbridge Wells in Kent to meet councillors and candidates in the forthcoming county council elections on 2 May.
Mr Farage said the creation of a UKIP group on Waverley council meant the party would have a real say in how it was run.
"Unlike other parties, we encourage our councillors to find their own voice in service to their constituents," he said.
Mr Knowles said the UKIP group had not yet been formally convened.
"You have to fill in various forms first," he said.
"I am quite happy for there to be an opposition group and to see how they develop."