Maidenhead Aquatics owner thought Surrey PC's claim was joke
12 April 2013

From the section

Surrey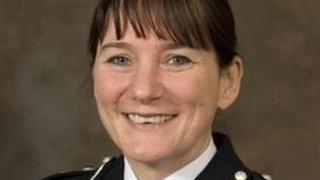 The owner of an aquatics shop who is being sued by a policeman has said he "thought it was a joke" when he received the compensation claim letter.
PC Richard Seymour said he tore his Achilles tendon when he fell down a hole after being called out to a night-time break-in at the shop in Surrey on 28 March last year.
He is claiming compensation for medical treatment and loss of overtime.
Surrey Police said the force was not supporting or funding the legal claim.
Stuart Lambley, owner of Maidenhead Aquatics, which is based at a garden centre in West Horsley, said he received a phone call from his alarm company that there had been a break-in.
When he arrived, two police officers were there.
"We let them in and walked down to our main building where we saw the windows were smashed in and a safe was taken," he said.
"They were here for about half an hour to 40 minutes looking around, taking a statement and that was about it.
"A year later I then see a letter saying a police officer fell down a drain or a manhole on our premises.
"I thought it was a joke."
'Full pay throughout'
Mr Lambley said he did not know the details of what actually happened or how much compensation PC Seymour was claiming.
He added: "I believe if you're going to ring someone up to ask for help and they're paid to do so, if you get injured doing that and are being paid while off sick, then surely you shouldn't be able to sue someone afterwards."
Surrey Police said PC Seymour had remained on full pay throughout.
Chief Constable Lynne Owens said: "Policing, by its very nature, carries an element of risk and the vast majority of our officers accept that this comes as part of the job.
"They are rightly proud of what they do and would never consider making a private compensation claim against a victim of crime."
Slater and Gordon, PC Seymour's lawyers, said he was injured falling down a hole which was not visible at night.
"PC Seymour was in a leg plaster as a result of his injuries for four months and was unable to perform full duties for a further two months," the spokesman said.
"He lost some of his normal wages during that six-month period.
"In addition, he is still paying for medical treatment which he needed to be able to get back to work.
"This is a claim against the garden centre who are covered by public liability insurance as they would be for any claim brought by a member of the public (under the Occupiers Liability Act).
"It is entirely wrong that police officers who sustain injuries through no fault of their own whilst trying to protect the public should be singled out in this way and forced to pay for their own medical treatment - treatment which actually helps them get them back to work as soon as possible "