Guildford development 'should improve access to river'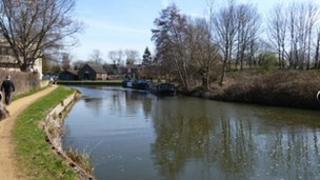 A lobby group has called for the redevelopment of Guildford town centre to include community space and greater access to the River Wey.
Guildford Vision Group said it hoped the North Street area could become a place people wanted to visit for leisure as well as shopping.
The borough council has shortlisted three developers for the 2.5 hectare site near Friary shopping centre.
It said it would publish details of their bids before the end of March.
North Street, a short walk from the Surrey town's High Street, includes shops, offices, housing, a bus station and car parks, but the council says its poor quality environment "dominates and reflects badly" on the town.
It is reviewing bids from Land Securities, Lend Lease and Queensberry to redevelop the site.
'Younger generation'
Bill Stokoe, spokesman for the Guildford Vision Group of business leaders, architects and societies, said the river was a "lovely asset" which was underused.
He said: "The hope we have for North Street is that it becomes a place where people want to visit, not necessarily just to shop.
"We hope it is a community space linked to other developments that might, for instance, open up the river as a better public space.
"The needs of the younger generation also need to be taken into account - it is important that we embrace the views of the broadest community we can."
Councillor James Palmer said the three developers all submitted very strong bids.
"This is a key town centre site to support Guildford's thriving economy now and into the future," he said.
"There will be opportunities for further engagement with local people and stakeholders after selection of the preferred developer."