Crimewatch appeal: Surrey Police follow up armed raid leads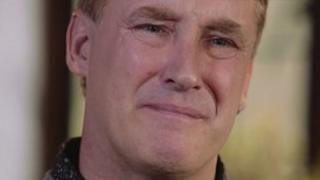 At least 40 calls have been made to Surrey Police following a television appeal in which a man described how he and his family were tied up in a raid.
A gang of about eight masked and armed men broke into the house in Newchapel in the middle of the night last June.
The man described on Crimewatch how he thought he would be shot dead in front of his wife and two teenage daughters.
Det Insp Anthony Archibald said some names of suspects had been given to officers as a result of the appeal.
There had also been a number of calls about the distinctive gloves used by the burglars, indicating where they had come from, he said.
'Gun held to head'
The victim, identified only as John, had woken at his home to find a man with a shotgun standing over his bed.
He was pulled from his bed and made to hand over thousands of pounds worth of cash and jewellery from the safe, before being dragged downstairs with a gun held to his head.
At the same time, his daughters were being threatened in their bedrooms, before being dragged into their parents' room where they were tied up with dressing gown belts along with their mother.
High-value items including a Louis Vuitton handbag and a Rolex watch were stolen during the raid, in which John was also held with his face down on a bed, with a pillow over his head and a gun pointed at him.
Rewards offered
Det Insp Archibald said it was believed the family were specifically targeted because the burglars had very detailed demands.
It is thought about eight men aged between 18 and 25, all wearing masks, dark clothing and gloves, took part in the burglary.
"I'm confident that these offenders would've confided in someone... and we're really appealing to their better nature to come forward and give us some information," he said.
Two rewards of £2,000 and £3,000 have been offered for information.