Work under way to rebuild Cranleigh roundhouse after arson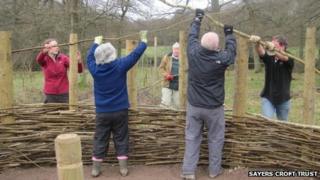 A reconstruction of an Iron Age roundhouse destroyed in an arson attack in Surrey last year is being rebuilt.
The Sayers Croft Trust used the thatched structure in Ewhurst village, Cranleigh, as an educational resource.
It is being aided by local people who have helped gather hazel wood from its woodland to use for the walls and roof.
The remains of the burnt structure are being left for local archaeologists who want to study how the real Iron Age sites would have decayed over time.
'Overwhelming support'
The new roundhouse is being built just to the side of the original site.
Community education officer Sarah Miles said the response from the public had been "overwhelming" with dozens of offers of support and donations towards the rebuild appeal.
The trust said insurance money was paying for the cost of the rebuild and donors would be asked if their contributions could be used to purchase further Celtic and Roman educational resources.
It hopes the roundhouse will be completely rebuilt by the end of the summer.
Surrey Police said its investigation into the arson attack last November was ongoing.