Bumblebee opera premieres at Royal Holloway Science Festival in Surrey
3 March 2013

From the section

Surrey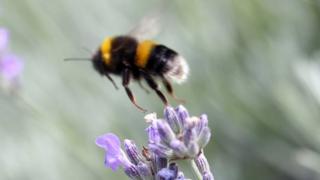 The premiere of an opera about the decline in bumblebee numbers will be held in Surrey later this month.
The Silence of the Bees: A Science Opera is launching the start of the week-long Royal Holloway Science Festival in Egham.
The University of London's departments of music, English and biological sciences worked together on the piece.
It is inspired by research into work to protect endangered bee species and reintroduce extinct ones to the UK.
Dr Mark Brown, whose work inspired the opera, said without pollination by bees, many foods and flowering plants would be lost.
"The rapid decline of bees is an issue that urgently needs to be addressed," he said.
"Scientists and artists are often viewed as working in very different ways, but creativity and the desire to communicate are universal.
"I hope that by fusing our worlds together in this one-act opera, we will be able to communicate the importance of this issue to a new audience."
The opera is being performed at the Windsor Auditorium at the Royal Holloway, Egham on 17 March.