More than 6,000 join Surrey energy switching collective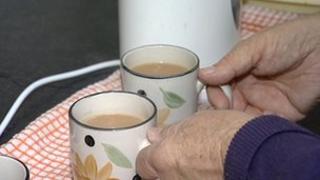 More than 6,000 people have signed up for an energy switching scheme in Surrey which is intended to get them a better deal on energy bills.
Surrey County Council set up a collective last year with the aim of using the buying power of thousands of residents to bid for a lower price.
The council said it had now teamed up with more than 60 councils to "make the most of their collective clout".
All the councils will negotiate a deal with suppliers on 9 April.
The deadline for joining the Surrey scheme has been extended to 8 April.
'People power'
Cabinet member for change and efficiency, Councillor Denise Le Gal, has urged people to join the scheme which could see savings of £200 or more on annual household bills.
She said teaming up with other energy collectives run by councils across England meant the authorities could potentially draw on the "people power" of up to 100,000 bill-payers.
Collective switching, pioneered in Belgium and the Netherlands, allows groups of customers, often organised by local councils or community groups to choose the best rate by changing tariff at the same time.
An "auction" is held with energy providers with their lowest bid winning.
The deal will be announced to people in Surrey in mid-April and they will then have until early May to decide whether to switch.