Surrey university to open £45m veterinary school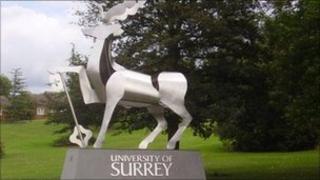 A £45m school of veterinary medicine is to be launched at Surrey university.
The university in Guildford said the school would be the first in the South East outside London.
Experts from The Pirbright Institute already work with the university and have said the move would build on that association.
Building work and recruitment will take place over the next year with the first students due to be admitted in 2014, the university said.
Professor Lisa Roberts, dean of the faculty of health and medical sciences, said: "It's going to be positioned under a 'one health one medicine banner', which means basically we are going to be translating what we learn in animal medicine through to human medicine and vice versa."
Professor Roberto La Ragione said students would work with local veterinary practices to gain clinical experience.
He said: "We won't have a hospital on site, but our students will go out to the different practices and learn the essential day one competencies that they require to be veterinary surgeons."