'Waterboard' torture attack: Police bail man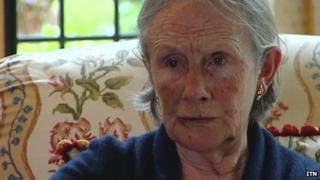 A man arrested in connection with an attack which saw a 73-year-old woman gagged, waterboarded and told she was going to die has been released on bail.
Francoise Jansen, of St George's Hill, Weybridge, said the attack was "evil".
She escaped after biting through electrical cables used to tie her wrists to a radiator.
Surrey Police said a 31-year-old from Brookwood arrested on suspicion of aggravated burglary on Tuesday had been bailed until 20 September.
During her ordeal on Friday night, Mrs Jensen was asked if she had any grandchildren and when she told her attackers she had, they replied: "They're going to be sorry then because if you don't help, you will die."
'Recovering remarkably well'
They stole jewellery from one safe and then dragged her upstairs, poured boiling water over her arm and subjected her to waterboarding - where a cloth is put over the victim's face and water poured on to simulate drowning - in an attempt to force her to open a second safe, which she could not remember how to open.
Supt Mark Preston said Mrs Jansen had undergone a "shocking experience" but was recovering "remarkably well" from her injuries.
A spokesman for the force said: "A 31-year-old man from Brookwood who was arrested on suspicion of aggravated burglary in connection with an incident in St George's Hill, Weybridge has been released on bail until September 20 while the investigation continues."