Christian councillor's gay marriage vote inquiry
6 August 2012

From the section

Surrey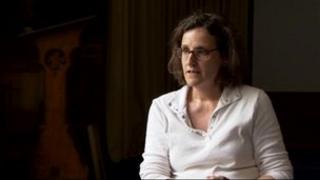 A Christian councillor in Sussex has been called before her party after she voted against allowing gay couples to marry.
Christina Summers voted against a motion on government plans to allow gay marriage, defying Green Party policy.
The party said Ms Summers may have "compromised her signed declaration" by which she was chosen as a candidate.
Ms Summers has said she supports same sex relationships and civil partnerships, but not gay marriage.
Speaking during the council debate on 19 July, Ms Summers said: "When you touch marriage, you're touching family and you're hitting at the very heart of God and I have an enormous problem with that."
Also speaking during the debate, Jason Kitcat, the council leader, said: "I respect every member's right to freedom of expression in this chamber and we are all free to disagree."
'Long standing policy'
Rob Shepherd, a member of the Brighton and Hove Green Party Executive Committee, said: "Christina Summers spoke and voted against equal civil marriage - a long-held and firm policy of the Green Party."
He said there were concerns among some councillors and party members after she opposed a "long standing party policy".
"She may have compromised her signed declaration, by which she was selected as a candidate by party members and which formed part of the platform on which she stood for public election as a Green Party candidate."
He said the panel on the inquiry wanted to establish the facts.
"No speculation on the outcome may be drawn from its commencement."
He added that the panel had no power to remove Ms Summers from the Green Party or as a city councillor, but may exclude her from membership of the Green group, which has minority control of the council.
The panel is expected to take several weeks to reach an outcome.