Olympic rower Joshua Booth to pay for Egham shop damage
3 August 2012

From the section

Surrey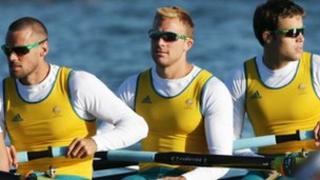 An Australian Olympic rower who was arrested in Surrey on suspicion of damaging a shop front has been ordered to apologise and pay for the repairs.
Joshua Booth, 21, who competed in the men's eight on Wednesday, was held in Egham, in the early hours of Thursday.
Australian deputy chef de mission Chris Fydler said Booth had been told to pay £1,400 to repair the damage.
Surrey Police said Booth had admitted full responsibility for the damage and the matter had now been resolved.
It said officers had spoken to the owners of two damaged properties and, "following an offer of reparations to cover the costs of repairs by Mr Booth, the victims are satisfied that the matter can be dealt with without the need for criminal charges".
A statement said police would not be taking any further criminal action against Booth and his bail had been cancelled.
'Clearly embarrassing'
Mr Fydler added: "We expect higher standards from our athletes.
"This has been an embarrassing situation not just for rowing but for us as well. We expect a much higher standard of behaviour from all of our athletes and we'll certainly be reminding the section managers, as various sports start to complete, that a level of behaviour is expected of their athletes."
Booth made his Olympic debut on Wednesday, when the Australians finished sixth in the six-crew final of the eight at Eton Dorney, in which Germany came first.
The shop front was damaged in nearby Egham about 12 hours later.
The rower also had to be taken to hospital after he fainted and hit his head at the police station, a press conference at the Olympic Park heard earlier this week.
Booth was arrested on Wednesday and bailed until Friday, but not charged.