Australian rower Joshua Booth arrested over shop damage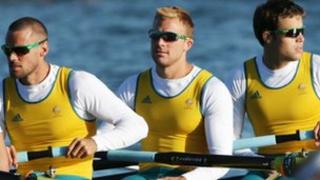 An Australian Olympic rower has been arrested by police after a shop front was damaged in a Surrey town.
Joshua Booth, 21, who competed in the men's eight at Eton Dorney on Wednesday, was held in Egham in the early hours of Thursday.
Mr Booth had to be taken to hospital after he fainted and hit his head at the police station, a press conference at the Olympic Park was told.
Surrey Police said the athlete had been released on bail until Friday.
Australia's Olympic Commission chef de mission, Nick Green, told the press conference: "At about 3.30 last night I had a phone call, we had an unfortunate incident.
'Alcohol involved'
"One of our rowers, Josh Booth, from the men's eight, has got himself in some trouble. He was detained by the police last night for damage to a shop front.
"He was then taken to a police station. He fainted while he was there and hit his head at the police station and was taken to the hospital for precaution.
"He was released from the hospital and is now back in the rowing village, rowing centre accommodation.
"He was released as I said and no charges were laid.
"He has to go back to the police station tomorrow where the police will investigate the matter and make some outcomes out of their investigation."
When asked, Mr Green replied that he understood "there was alcohol involved". He said he did not know whether Mr Booth was on his own or with teammates when he was arrested.
A spokeswoman for Surrey Police said officers were called to Egham High Street at about 01:40 BST.
She added: "Officers attended the scene and discovered two windows had been smashed.
"A 21-year-old man was arrested at the scene on suspicion of criminal damage.
"He was initially taken into custody at Staines police station and was subsequently taken to St Peter's Hospital in Chertsey for medical treatment.
"He has been bailed to return to Staines police station tomorrow."
The Australian men's eight finished sixth in Wednesday's final, which was won by Germany.