London 2012: Godstone rings bells to welcome torch
20 July 2012

From the section

Surrey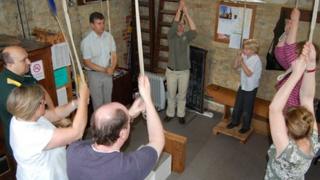 One of the youngest bell ringers in Surrey began his school summer holidays by helping to welcome the Olympic torch into the county.
As the torch relay crossed the border from Kent, 10-year-old James Goodship was among eight bell ringers who rang at St Nicholas Church, Godstone.
The ancient parish church sits in the Surrey Hills, above the village green where thousands of people gathered to see the torch.
They included hundreds of children from local schools who, like James, were allowed to leave early on the last day of term to join the celebrations.
Picnicking families
The sun came out as families with picnics made their way to the village green - though not all the children understood exactly why they were there.
"Are we nearly at the Olympics, dad?" said one small boy as his family joined the crowds.
Godstone sits just outside the M25, although it would feel as though it were miles away in deepest countryside but for the low drone of the motorway which can be heard in the distance.
James began learning to ring the bells at St Nicholas earlier than most students because both his parents, Nigel and Carolina, are bell ringers.
"Most bell ringers start about 12, but James has been ringing since he was nine," said his father, Nigel.
St Nicholas Church, which dates back to the 13th century, was one of a chain of ancient churches in Surrey where bells were rung for the Olympic torch relay.
Village sports day
"Many of these churches have very old bells and they have been ringing at historic occasions for hundreds of years," said James's mother, Carolina.
"It seemed fitting that church bell ringing be part of our celebrations as the torch passes by."
Bells were also rung at St Mary's Church, Bletchingley and St Martin's in Dorking to welcome the torch.
Handbell ringers were also out in Dorking.
At St Mary's, the bell ringers were on duty before the torch entered the village and again for the Big Village Sports Day held afterwards on Grange Meadow.
"It's great for the village because it all helps build the community spirit," said bells captain Ed Muller.
"We had great celebrations for the Jubilee and we rang the bells then as well.
"We have got a great village here and all this helps."
Members of Surrey Association of Church Bell Ringers will also be joining in the synchronised bell ringing on 27 July at 08:12 BST to launch the London 2012 Olympic Games.
As many as possible of the ringers attached to the association's 71 churches will be taking part.