London 2012: County becomes 'largest Olympic venue'
19 July 2012

From the section

Surrey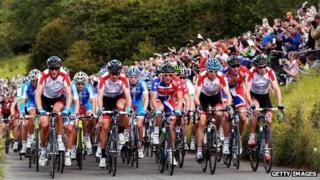 How do you prepare to host an international racing event watched by millions and accommodate tens of thousands of spectators?
Staging the Surrey section of London 2012 Olympic road cycling races has been a mammoth task for Surrey County Council, Surrey Police and the National Trust to name just a few of the local organisations involved.
It has taken over two years to ready, and one way or another it has affected, or will affect, most of the population of the county.
"We are creating the biggest Olympic venue of the whole games basically and it's more or less the county of Surrey," said Helyn Clack.
'A huge job'
Almost 270,000 sq m of road has been resurfaced, an army of 6,000 stewards and volunteers has been recruited, police have been trained and a test race has been held.
The Olympic road cycling races will take place on 28 and 29 July, with 212 people competing - 145 men and 67 women.
The course is 155 miles (250km) for men, 87 miles (140km) for women and the route takes cyclists from The Mall, through west London and then out to Surrey and back.
Through Surrey, the route includes a 9.6 mile (15.5km) circuit around Box Hill, including the National Trust's Zig Zag Hill.
"This is a huge job," said Ms Clack, the cabinet member for the 2012 Games. "We've got a contract with them [Locog] to deliver the cycle race on our highways.
"We've invested some of our money into the condition of the highways which we were going to do anyway."
Traffic calming measures such as humps and pinch points have been removed, but will be reinstated after the event.
More than 42 miles of roadside barriers are being erected - enough to lap the running track of the Olympic stadium 170 times.
There will be 5,000 cones, 4,000 road signs and 545 road closures affecting the road network, a move that has concerned some residents.
Ms Clack said: "This is a fantastic event which is taking place in Surrey but it is going to be disruptive. Many people are concerned about how they are going to get around with road closures.
"They [people] have generally been very patient about the fact that we have had to change the route of the roads to accommodate the cycle race and we are very grateful for that."
'Time to celebrate'
With thousands of spectators expected to attend, Surrey Police has spent months planning, rehearsing and preparing the security of the race.
About 560 officers and staff are involved in policing the events.
Ch Supt Gavin Stephens said: "All of the routes that are going to take cycle races have been visited by officers, they've been risk assessed so we know where the points are where we need to have policing present.
"We are going to make this a safe and secure games so that it can be enjoyed by everyone - it's a real time to celebrate."
As well as protecting the public, the Surrey countryside has to been safeguarded.
About 15,000 spectators are expected to watch the race from Box Hill, which is a Site of Special Scientific Interest (SSSI).
The National Trust, which owns the site, carried out five months of detailed work with (Locog) and Natural England.
Andy Wright, the National Trust countryside manager for Box Hill, said the survey was the most thorough ever carried out on the site.
He said: "The scrub alongside the road has very few species living in it so when we remove it, it doesn't matter if people walk in those areas.
"It's great news that so many people will be able to enjoy the races in this wonderful natural setting."