London 2012: Residents told 'plan ahead' for cycle race
1 July 2012

From the section

Surrey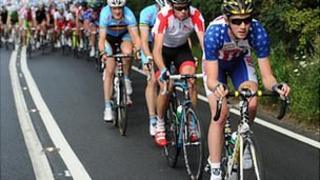 People living and working near the London 2012 cycle road race route in Surrey have been warned to plan ahead.
Newsletters have been sent to residents and businesses within 100 metres of the route with maps and information about road closures and parking restrictions.
Councillor Helyn Clack, cabinet member for London 2012, said "huge crowds" were expected.
She said: "We understand there will be disruption, but we're doing everything we can to keep it to a minimum."
Ms Clack said: "Mark Cavendish could win Team GB's first gold medal on Surrey roads so we're expecting huge crowds.
"There will be road closures and parking restrictions along the route on event days, so please avoid driving in the area if you can."
She urged people to think about their best viewing options if they wanted to see the action."
And she said: "We would advise people to walk and stay close to their local areas because it's going to be very difficult to get around.
"And think carefully if it's a good idea to watch the races on the roadside if, for example, you have small children."
Residents have been urged to read their newsletters carefully and visit Go Surrey for further information.
Businesses are being sent a different newsletter which includes advice on how they can benefit from the event and minimise disruption.
The men's cycle road race is being held on 28 July and the women's on 29 July. The cycling time trials are being held on 1 August.