Oxted gas facility in Diamond Jubilee row being removed
26 May 2012

From the section

Surrey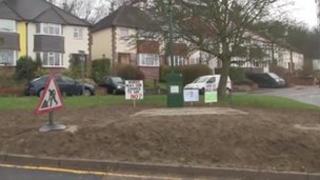 Work is getting under way this weekend to remove a gas facility which was at the centre of a row in Surrey over Diamond Jubilee celebration plans.
Residents had claimed the facility on a green in Johnsdale, Oxted, would stop them from holding a Jubilee party.
The "gas governor" consists of a large slab of concrete, a control box and a flue pipe and was installed in December by Southern Gas Networks (SGN).
SGN said it hoped to finish the removal by the start of the Jubilee weekend.
The green was used to celebrate the Queen's coronation but residents said the gas facility meant it would not be safe to put any children's games or a bouncy castle on the site.
'Former glory'
Janet Brown, of the Johnsdale Residents Association, said everyone was now "very relieved" that their Jubilee party would be able to go ahead.
"This has all dragged on for far too long but the end is very close now," she said.
In a statement, SGN said discussions were held with both the district and county councils last week and a number of possible new locations were considered in order to "continue to ensure a safe and reliable gas supply" for residents.
"While at the meeting we weren't able to agree a new location at the time, a number of possible new alternatives were discussed which are now being urgently investigated.
"However, with assurances of co-operation from all parties, we felt confident we could take the step of moving the equipment now."