Injured diver Dan Eley completes virtual bike ride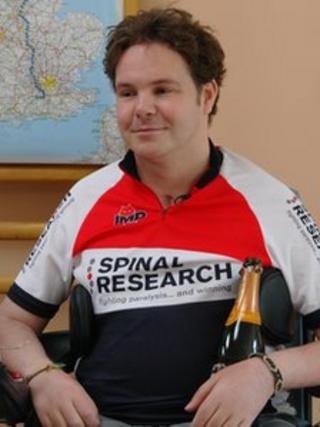 A man left paralysed after an accident in Colombia two years ago has completed a virtual 550-mile cycle ride.
Daniel Eley, 33, from Witley in Surrey, uses a wheelchair after he broke his neck when he dived into a river.
He used a bike which electronically stimulated the major muscle groups in his legs to create a cycling motion for 400 miles of his challenge.
But after suffering blisters and pressure sores, he was forced to use a hand cycle for the final 150 miles.
It took a total of 21 weeks and Mr Eley covered the equivalent distance from the Spinal Research headquarters near Guildford, where he undertook the challenge, to The Queen Elizabeth Spinal Injury Centre in Glasgow.
The challenge was in aid of Spinal Research, with more than £3,000 being raised so far.
Olympic torch
Mr Eley had been hoping to finish the ride by the end of April, but said it had been made more difficult because of having to switch to another cycle.
"At first I was only able to cover about three miles in one session," he said.
"Since then, I have been able to cover up to seven miles on occasions, and that's going against resistance level three, the same level I was using with my legs."
He said the benefits had included an improvement in his physical condition.
"Being in a wheelchair it is easy to get tired and unfit due to the lack of activity of the muscles," Mr Eley said.
"I now feel much more awake and have much more energy, even on the days when I have not cycled."
Mr Eley, who lives in a care home in Surrey, will be carrying the Olympic torch through Godalming in July.