Woking borough election candidates sign election protocol
20 April 2012

From the section

Surrey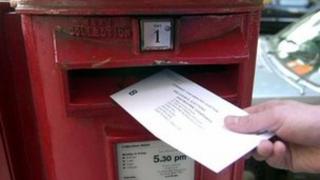 Political candidates are signing up to an "acceptable behaviour" protocol in a borough that saw allegations of electoral fraud last year.
Woking council and Surrey Police have created the memorandum of understanding which all candidates and campaigners have been invited to sign.
The council said it followed allegations of fraud at past elections.
The allegations included misuse of postal votes, intimidation of electors and false registrations.
The council's electoral manager Charlotte Griffiths said the local authority and Surrey Police were working to safeguard the electoral process in the borough.
Police visiting homes
On Thursday, Surrey Police outlined measures being taken in the borough to prevent electoral fraud.
Action by the force included police visits to properties where there could be registration and postal vote irregularities, uniformed patrols at polling stations on election day, and police officers at the actual count.
Ms Griffiths said a leaflet being distributed in the borough outlining what constitutes an electoral offence had been sent out each year and was first issued in 2006 because of concerns about possible fraud and malpractice.
Woking council said any allegations found to have any substance would be handed to Surrey Police for appropriate action.