Epsom and St Helier NHS trust sees busiest A&E year
18 April 2012

From the section

Surrey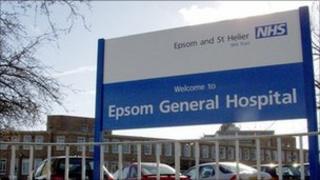 An NHS trust which runs hospitals in Surrey and south London has reported its busiest year in A&E.
Epsom and St Helier NHS said more than 137,000 patients were seen and treated during the financial year 2011-12 - an average of 374 people a day.
The trust said it treated 81,739 people at St Helier Hospital in south London, and more than 55,300 at Epsom.
St Helier saw a 3% rise in demand that year and Epsom saw a 2% rise in demand, compared with figures from 2010-11.
Urgent care centre
Dr Carole-Ann Johnson said: "We are seeing a year-on-year increase in the number of people using our A&Es, and we are treating almost 14,000 more people a year than we did just five years ago.
"During 2011-12, we saw one patient every four minutes."
She said services at both hospitals were also improved during the same year.
Last August, a new urgent care centre opened at St Helier to deal with minor illnesses and less serious injuries. The service was expanded in March this year.
Dr Johnson said the move allowed specialist A&E staff to focus on more serious, life-threatening condtions.
And last September, the NHS trust said it was funding an additional six consultants in acute medical units - departments that work closely with A&E.
Dr Johnson said the trust had continued to meet government targets for A&E waiting times.