Heather seeds sown over old A3 at Hindhead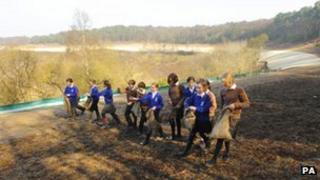 The final stage of returning the route of the old A3 to nature is getting under way in Surrey.
Children are joining National Trust director general Dame Fiona Reynolds to sow heather seeds at the Devil's Punch Bowl beauty spot.
Contractors have now finished taking up the old London to Portsmouth road which used to cover 1,600 acres at Hindhead.
"In this day and age, to take up a road has got to be a first," said head ranger Matt Cusack.
The old road, which was cut through the hillside 180 years ago, closed in July last year after the new Hindhead Tunnel opened to take the A3 away from the National Trust land.
The old road separated Hindhead Commons from the Devil's Punch Bowl.
'Real blight'
"It is good to actually remove a built structure," said Mr Cusack.
"When the trust took over Hindhead Commons and the Devil's Punch Bowl in 1906, the motorcar was quite a young invention.
"As it became more and more popular it became a real blight on the landscape.
"People used to have lovely views driving past. Now the same stunning views are still there but we haven't got the traffic pollution and noise."